Gift card promotions, where to buy and management – Google Play
Google Play gift cards are prepaid cards that allow people to purchase digital products on the Google Play store. In the UK, they are available in different denominations such as £10, £25, and £50 and can be purchased online or in stores. The cards can be redeemed for a range of products such as apps, games, music, movies, TV shows, and books available on the Google Play store. Once purchased, the gift card code can be redeemed on the Google Play store using an Android device or web browser. The credit will be added to the recipient''s Google account balance, and they can use it to buy digital content on the store. Google Play gift cards do not have an expiry date, and the funds never expire unless the user''s Google account is terminated.
Google Play gift cards offer endless ways to play. Discover gift card promotions, manage gift card spending and find where to buy online and in shops.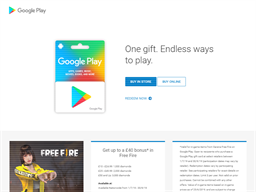 Terms and condition on the back of gift card.
To redeem on the web: I. Go to play.google.com/redeem.(gcb.today#9626DB). 2. Scratch label off of card & enter code.(gcb.today#D3063B). 3. Gift card value will be added to your Google Play balance.(gcb.today#41B486). To redeem on an Android phone/tablet: 1. Launch the Google Play Store app on your Android phone or tablet. 3.(gcb.today#C618CC). Scratch label off of card & enter code. 4 Gift card value will be added to your Google Play balance. .(gcb.today#DAEBE2). Terms & Conditions: For additional terms. privacy policy. and issuer entity (Google Commerce Limited unless otherwise stated) visit play.google.com/uk-card-terms.(gcb.today#CFCC17). 0 2016 GCL. All rights reserved. .
Gift card web page, terms & conditions for Google Play.